Data curious don't stop their thinking and activities in the pandemic!! Please continue with me to know more.
It has been 9-10 months since the pandemic started in the US, but it feels like two or three years already. It has been that kind of year!


A substantial portion of my professional time was spent analyzing the pandemic's impact on essential products' inventory positions, deeper dives into seemingly random demand spikes, and understanding assortment optimization at stores. Your visit to the understocked neighborhood big box retailer or futile search online for essentials would stand testimony to the frustrations we all went through.
The Art and the Science of Data Visualization

I remember pulling in daily Data on Covid spread map throughout the USA from John Hopkins – and frenetically working on our forecasting models and back-casting methodology, and making necessary adjustments– eventually with continued focus and proactive approach we saw lesser Out of Stock, Increased Sales. Most importantly, Supply Chain Inventory reprioritization happened, which helped re-stock the aisle at the retailers with the products frenetic shoppers were looking for.
Believe me, it was ugly, and it was pandemic all rolled into one.
But it could have been worse, a whole lot worse.
For data practitioners like us, we saw first hand the power of Analytics and near-real-time data being used as a tool for competitive advantage. The icing on the cake was the Improved Forecasting accuracy and Sales!
Fast forward to the fall of 2020. Now we are in a relatively better position with respect to demand spike and have a more responsive supply chain.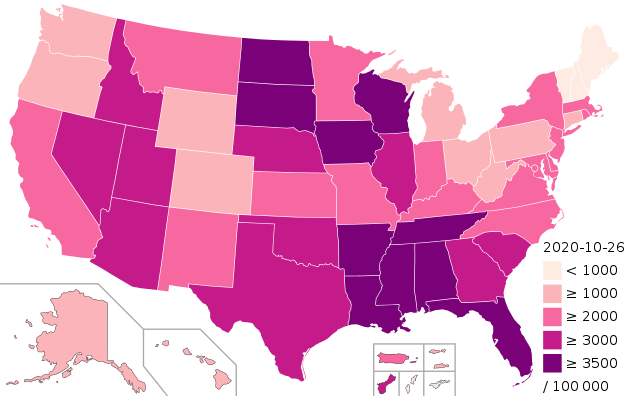 Image courtesy Wikipedia (link) | This file is licensed under the Creative CommonsAttribution-Share Alike 4.0 International license.

To be frank, all these pandemic related intensive work and data is giving me bouts of "Pandemic fatigue". I am not only talking about following pandemic measures and masks and continued social distancing. I am also fatigued by everything else that steers the conversation towards the pandemic. Including Data! Because I'm a data curious guy.
Oh well, c'est la vie.
I long for days when I'll be able to some time off work, pack my bags, and go to that exquisite Tiny Home nestled in the Carolinas. They boast of a sustainable farm, bonfire, and roasted marshmallows, and I could use my Celestron to stargaze. I promise to be socially distant!
As I daydream, I remember these lines from a favorite movie Shawshank Redemption- 'Remember,  Hope is a good thing, maybe the best of things, and no good thing ever dies.'