Hey!!! Do you know how to get Google Analytics Certification?
Thank you for reading this post, don't forget to subscribe!
No
Don't worry.
Today I'm here to share my experiences acing the exam and will also share my practical knowledge. That will make your way easier to the GAIQ certification. So don't waste time just continue with me.
The fun thing about learning is that it is a never-ending process. Analytics is such an evolving field there are various domains, sub-domains, niche segments that one set of skills or certification/s is hardly enough. Digital Analytics is one such exciting field where most of my current focus is. What better way to augment my skills than to be certified by non-other than the Grand Daddy of Analytics, i.e., Google.
The latest one in my repertoire is the coveted Google Analytics Individual Qualification (or simply GAIQ).

For the uninitiated, GAIQ is an exam conducted by Google to test our Digital analytics skills and knowledge of the Google Analytics platform. The passing grade is non-trivial as you are expected to score 56/70, and I managed to score exactly that, 56/70. Lean Management at it's best, ain't it?!
10 QUICK FACTS / TIPS & TRICKS

:
PASSING GRADE is 80%- you have to get at least 56 out of 70 questions correct.
The certificate is valid for 12 months from the date of passing.
You have to renew the certificate every 12 months to keep it active.
You can access the GAIQ certification through Google Skill Shop: LINK
Study the learning material thoroughly even though you might be familiar with the GA tool. TBH, I found many of the questions to be theory and concepts based.
Topics covered for the GAIQ covers both the based and advanced Google Analytics concepts, including –
planning + principles
implementation + data collection
configuration + administration
conversion + attribution
reports, metrics & dimensions.
Google Analytics Certification Cost: The Google Analytics Individual Qualification certification is free of cost.
Prerequisites for the Certification: Before you can appear for GAIQ, you will have to complete two individual certifications – i. Google Analytics for Beginners ii. Advanced Google Analytics
Duration of the exam: 90 minutes to answer 70 questions. That comes to around 1.25 minutes per question.
Exam format: The exam comprises multiple choice and true and false questions.
In all honesty, the Google Analytics certification is well worth it if you are willing to dive deeper into Google Analytics and make sense of the enormous data being churned by the websites.
And who knows, it might very well land you a new job in the Digital Marketing, Web Analytics, or eCommerce industry as demand for such unique skills is getting translated into excellent salaries and tremendous job potential.

And here's my Google Analytics certification as proof of the labor!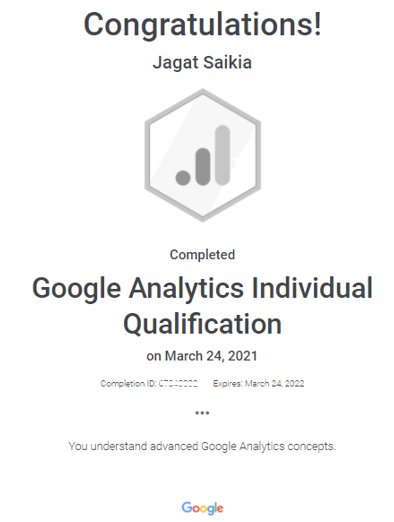 Good luck learning the fundamentals of Analytics.