Walmart InHome Delivery Service:
Adding to the three most popular retail delivery models already available- doorstep, drop-off, and curbside we now have a newer entrant to the list – "Direct-to-Fridge"!
Thank you for reading this post, don't forget to subscribe!
Going with the theme of massive innovation on the retail front, Walmart is expanding its direct-to fridge InHome delivery service. This 'direct-to fridge' is a clever spin on 'home delivery' where a Walmart associate brings groceries directly to a customer's refrigerator.
In 2019, Walmart introduced InHome to select markets. This service targets busy customers who want the convenience of living their lives without worrying about making the grocery store trip or being home for delivery!
Walmart InHome delivery service equips workers with a body camera that records the entire process. At the same time, customers can keep track of every step on their phones. In addition, the system gets recorded and stored for up to a week after- this provides users peace of mind about when they will receive an item and verbal confirmation from associates that everything went smoothly during installation or removal.
Walmart expands InHome Delivery Service to reach more customers
Over 50% of Americans live within 5 miles of a Walmart
Your groceries will now be delivered right into your fridge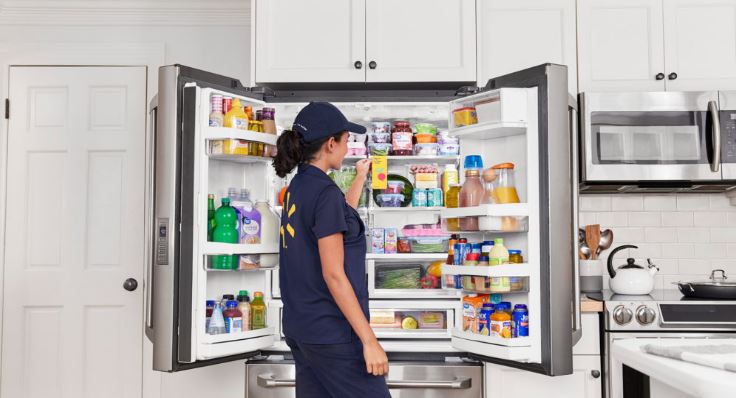 KEY FACTS & STATISTICS: WALMART INHOME DELIVERY (DIRECT-TO-FRIDGE) SERVICE
Walmart's new service called "InHome Delivery" was started in limited cities in 2019
Their employees wear cameras, so you do not have to worry if anything goes wrong.
They have expands direct-to-fridge (to grocery and other items) delivery service from six million to thirty million households
There are plans in the pipeline to use drones and self-driving cars to optimize Walmart's delivery service and increase the number of electric vehicles for in-home deliveries.
It fits Walmart's larger plan that seeks sustainability, speediness, accessibility across all areas present – including rural communities where Walmart stores already run!
Walmart plans to hire 3,000 delivery drivers and set up an all-electric fleet of delivery vehicles. They have just ordered thousands of such EV vehicles from BrightDrop –the General Motors-backed electric vehicle company
The InHome delivery service with cost the customer $19.95 as a monthly subscription fee
Customers can buy Walmart's InHome delivery services for $148 a year
Customers can opt-in for an optional $49.95 fee for a smart lock – this will grant the Walmart associates access to your home and your fridge. Do remember that they will be recording using their bodycam for the entire duration of their delivery.
Walmart's new service competes directly with Amazon Key (launched in 2017). Due to privacy concerns by would-be customers Amazon later decided to add in-garage and in-gate deliveries as alternatives.
Irrespective of the tier of service the customer chooses, they will need to make more purchases, including a front door lock and Cloud Cam, a compatible garage door opener, etc.
Unlike Amazon, Walmart will not be contracting out some of its drivers to third parties.
With the help of current employees, Walmart plans to fill these new roles with benefits that are similar or better than what they would receive if working at another retailer. Drivers will be working on a full-time basis, get health benefits, paid time off, 401(k), and a $1.50 pay increase from regular store positions.
Think of a world where you can order your groceries online and have them delivered by Walmart. The InHome service allows customers to do just that! With this innovative way of shopping, drivers use one-time access codes which unlock their doors or garages via the app once they are inside (no more keys!).
Associates will wear a bodycam on their vests to record the delivery in real-time. Customers can view the delivery on their smartphones if they want. The entry code for the locks changes with each delivery to keep things secured.
They rolled out InHome in 2019 to more than a million customers in Pittsburgh, Kansas City, and Vero Beach, Florida. It also plans to add Dallas, Los Angeles, Chicago, Houston, and other areas in the next phase of expansion.
Walmart's top competitor, Amazon had announced a similar service called In-Garage Delivery. Delivery drivers can leave groceries in customers' garages, but they do not load up their fridges.
Walmart said electric vehicles support its goal of running a zero-emissions logistics fleet by 2040. It also complements its growing infrastructure of 1,396 EV charging stations at stores and clubs across forty-one states.
The delivery driver will place Dry goods on the kitchen counter and perishable items like milk and vegetables in the fridge. Afterward, they will wipe down any surfaces that have touched before locking up the refrigerator to leave.
In-Home associates will have at least a year of WM experience. They will also go through extensive vetting, background checks, and training, along with a driving record check to ensure safety and to alleviate Privacy Concerns raised by would-be customers,