Quick Guide to Mine Dogecoin!
Yay! I now have an application-specific integrated circuit (ASIC) mining rig to dabble on my crypto obsession. There is a California Gold Rush kind of enthusiasm as I set up my rig to help solve these incredibly intricate computational math problems and hopefully break even one day with ample crypto tokens.
The connection to Blockchain, Cryptocurrency, occasional midnight blurbs from the self-proclaimed "Dogefather" and my 'risky' stock market bets on the future of Crypto has made this whole mining rig set up a sort of guilty pleasure. However, at its heart, my primary intention is still to learn this complex and technologically cutting-edge phenomenon.
In this article, we will discuss DOGEcoin. It might have been initially a parody, but now it has a market capitalization of over 38 billion dollars (August 2021) – putting it on par with some of the world's largest companies.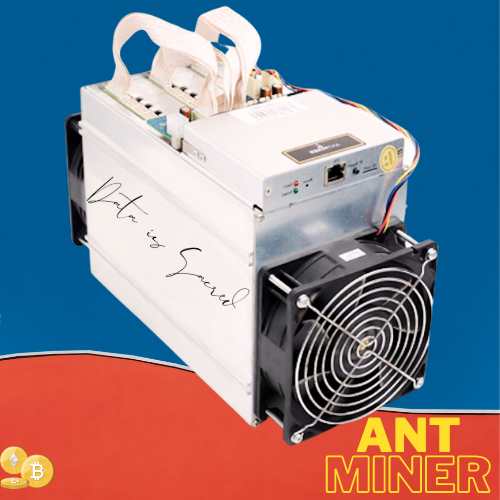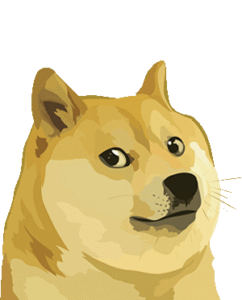 ORIGINS OF DOGEcoin:
In 2013, IBM software engineer Billy Markus and Adobe software engineer Jackson Palmer established Dogecoin in Portland, Oregon, to create a peer-to-peer digital currency that would reach a broader demographic than Bitcoin. Crypto taps offer free Cryptocurrency to people interested in learning about Cryptocurrency and investing in Dogecoin, and providing them the chance to do so.
How to pronounce Dogecoin: DOGEcoin (pronounced DOHJ)
Jackson Palmer's idea for the project came from two Internet browser tabs he had open on his computer- one with a viral meme of a Japanese Shiba Inu "Doge," and the other listing recently added cryptocurrency projects. He then posted a tweet, "Investing in Dogecoin, pretty sure it's the next big thing."
This Cryptocurrency, which was designed as a parody of the cryptocurrency industry, works similarly to Bitcoin, Litecoin, and Ethereum and works through a decentralized network (that is, in layman terms, without a bank, government, or other 3P entities) to transfer money from person to person.
The Dogecoin blockchain will allow cryptocurrency miners to update the register with new transactions. At the same time, Dogecoins will be awarded to them in return for processing transactions supported by the blockchain. Additionally, the blockchain uses a proof-of-work consensus algorithm known as the additional proof of work, eliminating the expense of mining Litecoin and other working cryptocurrencies. In addition to having an unlimited supply of coins, what makes Dogecoin unique is that it has no upper limit. As a result, the value of Doge is impossible to gauge because it has an almost infinite (and growing) supply, unlike finite cryptocurrencies like Bitcoin, which are highly decentralized. As of March 2nd, 2021, CoinFlip, a cryptocurrency ATM provider in the United States, added Dogecoin to its library of coins. As a result, customers can buy $DOGE with cash at their 1800 locations in the USA.
Dogecoins can also be purchased through cryptocurrency exchanges, just as all other cryptocurrencies. However, a digital wallet is required to send the coins, just like when buying Bitcoin. In addition, Dogecoin, bitcoin, and most cryptocurrencies are secured by an encrypted digital trade register known as a blockchain. As with other cryptocurrencies, Dogecoin's blockchain utilizes cryptography to keep transactions secure.
RISKS OF OWNING DOGECOIN: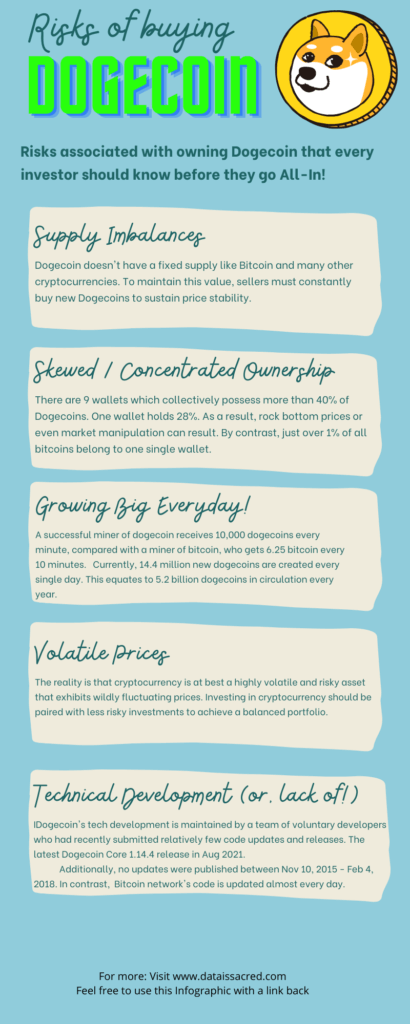 DogeCoin: Mining Requirements:
The next part of our discussion will be about crypto mining!
"How to mine Bitcoin"
"How to mine Dogecoin"
In Google Trends, a rise in searches for DOGE has been seen, indicating that more and more people seek to acquire it without purchasing it on a cryptocurrency exchange. In this case, your idle hardware becomes a DOGE miner for you – similar to renting out your car on Uber.
Dogecoin mining involves risk and caution. You should be aware of what you're up against before you start. Cryptocurrencies are exceptionally volatile, so this is an essential first factor to observe. A week can yield 100 DOGE worth $25, and if the market fluctuates wildly, your DOGE could be worth anything between $50 and $5 the subsequent week. Needless to say, you can even repurpose the best stock trading monitors for your cryptocurrency adventures and also do more research on the different sizes of motherboards and their form factors.
Bitcoin and Dogecoin both use proof-of-work to provide a financial service. Yet Dogecoin has less power consumption than bitcoin, which generates an outrageous amount of heat and energy. Mining Dogecoin is automated using the Scrypt algorithm; this is less complex than Bitcoin mining using SHA-256. Therefore, Scrypt requires less computer power, enabling miners to mint DOGE with less powerful machines.
It is necessary to make use of a mining pool and equipment for Dogecoin mining. Because Scrypt is the calculation algorithm underlies digital currency, an Application-Integrated Specific Circuit (ASIC) is the most desirable mining device. It is primarily a component of a computer that is designed for a particular use.
To mine with ASICs, specific algorithms must be used. However, it runs much faster than CPU/GPU and has up to 14 TH/s hash rate, resulting in superior performance compared to CPU/GPU. Overall, this leads to higher profits.
Additionally, you will need: