Follow my blog with Bloglovin

During the pre-e-commerce days, we used to depend on word of mouth and the expert opinion of a friend or a geeky face in the neighborhood store to get a good feel of the product.
We all need a 'human' connection irrespective of how hyper-connected and digitally wired we turn into.



In that context, online reviews are the new WORD OF MOUTH where shoppers connect as cohorts. Shoppers are systematically quantifying products and services both post-event- (posting reviews after purchase) and pre-event (looking at reviews after purchase)
• About 95% of customers read reviews before making a purchase. (source)
• 93% of customers will read reviews of local businesses to determine their quality. (source)
• 7 out of 10 customers take buying actions only after they have read reviews. (source)
At present, a lot of my focus is on e-commerce centric Core Business Analytics (ePOS), Pricing (LBB) and Online Search Optimization, and Content Optimization. And for those familiar with Amazon's mysterious A9 algorithm, you will realize that Product Ratings are one of the factors for better search results rankings.
Here is an Incognito search snapshot for 'Lego' blocks on Amazon.com. All the best sellers and top-ranked products are consistently having a higher Star rating and review count.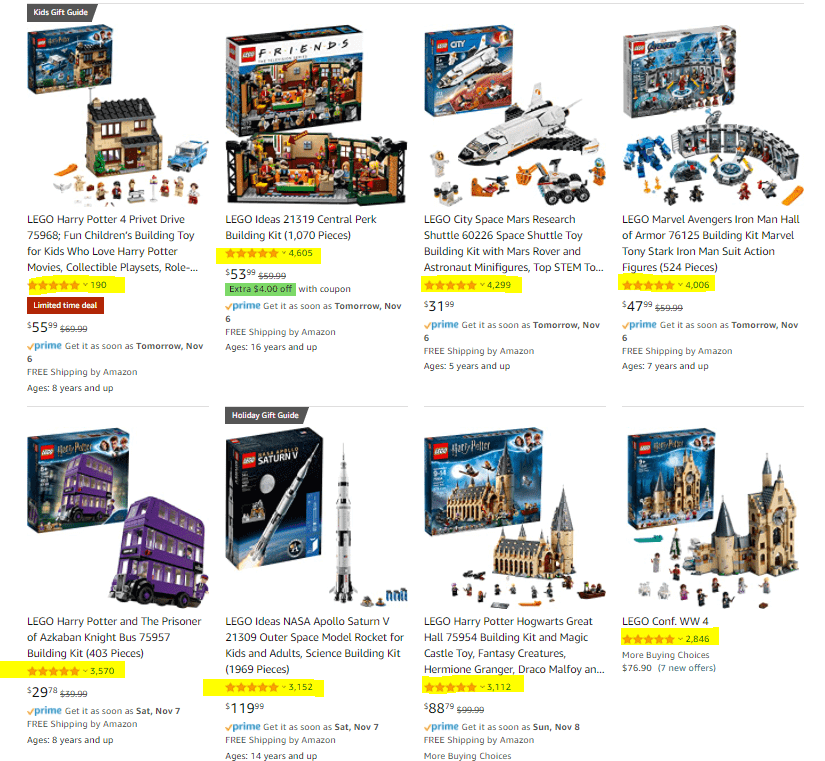 Sales being Sales – whether fulfilled in Physical or digital channel – and making a concerted effort to unearth valuable insights related to product availability, quality, assortment, and competitors' track will have a long-lasting effect on Sales and Profits.   With eCommerce accounting for 1/5th of all Sales and growing exponentially, leading brands understand the impact Online Reviews and Ratings have on their brand health and their presence on the Digital Shelf.

An automated dashboard can provide the impetus to capture near real-time Customer needs and wants and course correction.
Data is Sacred
In a typical setup, the Review & Ratings Insight dashboard can incorporate data from sites like Amazon, Third-party sites (like Walmart, Target, Best Buy, etc.), or the Brand's own D2C sites. We get data directly from eretailer or via web scraping or Syndicated sources. Syndication service's immediate benefit is that brands can utilize shopper-generated content (like reviews, Q&A, digital artifacts (images, videos), etc.)  across their own websites or other eretailer sites. It helps to jumpstart already available content on one platform and use those to the Brand's advantage in another. Other avenues of content generation apart from Reviews& Ratings would be targeted emails, sweepstakes, social shopping, etc.

This 360o view can help brands to evaluate sentiments across all segments of the Customer Journey Map.
Identify product trends and assortment sizes
Understand own vs. competitor product sentiments – create engagements via Brand Story, address quality, Pricing, benefits perception
Understand common customer problems during any part of the Customer Journey à Awareness > Consideration > Purchase > Retention > Advocacy
Target A+ content across all e-commerce platforms  – For A+ brand content, Q&A, and Brand sizzle Videos, including unboxing and product review videos etc. provides an immersive brand involvement that leads to Better Rankings and Conversions.
Identify new keywords, new product needs (organic, cruelty-free, pack sizes, etc.) and learn from category Best Sellers
Facilitate causal as well as exploratory analysis on products, availability, Price Corridors, variety, etc.
Social Listening to gauge the 'mood' around the Brand; strategize on engagements with KOL/influencer for brands to boost visibility and uplift
Faster response times to users questions and concerns, effectively nudging undecided shoppers
I am a big fan of a process-oriented approach to managing Ratings & Reviews. Brands can realize full potential by integrating native site reviews and ratings with Syndicated data, Social Listening and Sentiment analysis effectively backed by top niche players like BazaarVoice and Sprinklr.

(Check out their demo videos below!)
BazaarVoice
Sprinklr Demo