The term private labels or store labels refer to products that are sold under a retailer's brand name but produced by a third party. In most cases, the retailer controls every aspect of the product, including its branding, Pricing, specifications, design, and packaging. Remember that Private brands are made exclusively for a specific retailer and sold in their stores only.
Originally, private or store label products were designed to be more affordable for consumers. Pharma companies often use generic products in the same way. Their low marketing costs allow them to offer lower prices than regional, national, or international brands – without compromising quality or degrading margins. According to a Statista report, 199 billion dollars in private label sales in the U.S. were recorded in 2021, an increase from 197 billion dollars in 2020.
A prime example of a successful store brand is Kirkland Signature, a brand name Costco gave to all its private label products in 1995.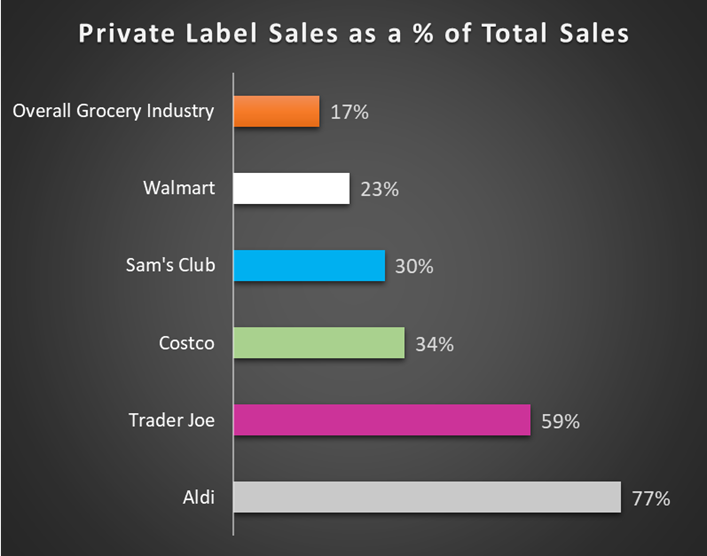 Current State of Private or Store Labels Market
The private label brand business is becoming increasingly significant for grocery retailers where Walmart continues to lead the pack. According to Chicago-based market research firm Numerator, Walmart owns four of the top five private label brands in household penetration.

The top private label brands owned by Walmart are-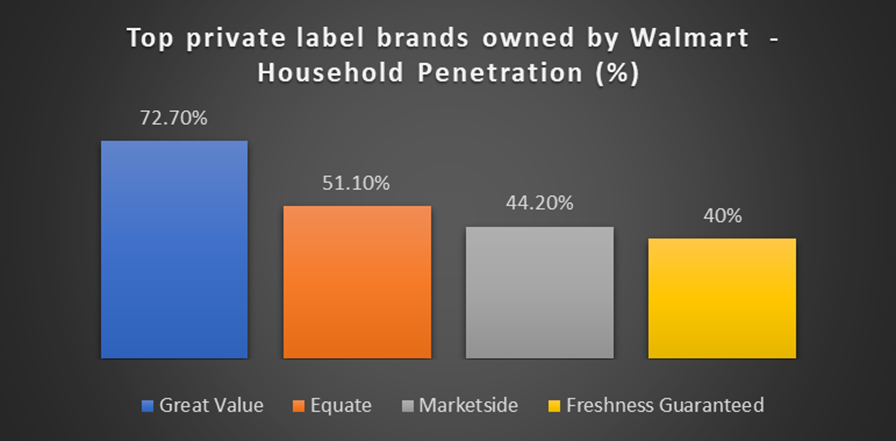 The use of private labels in retail is an effective way for retailers to increase sales. In addition to keeping control over their products' quality and ingredients, they can attract more customers looking for cost savings and variety. 
KEY STATS AT A GLANCE:
Increasingly, consumers are trading down from brand names as inflation presses them. Here is a breakup of Private/Store label Sales for few of the prominent retailers.
| | |
| --- | --- |
| Retailer | Private Label Sales as a % of Total Sales |
| Aldi | 77% |
| Trader Joe | 59% |
| Costco | 34% |
| Sam's Club | 30% |
| Walmart | 23% |
| Overall Grocery Industry | 17% |
Private Labels examples by Retailers-
Amazon Private Label Brands
Amazon has over one hundred private label brands, which include categories like food and beverage, automotive, clothing, and electronics.
| | |
| --- | --- |
| Categories | AMAZON owned Brands |
| Arts, Crafts & Sewing category | Fabric.com |
| Baby clothing | Moon & Back |
| Baby clothing | Simple Joys by Carter's |
| Baby products | Amazing Baby |
| Baby products | Mama Bear |
| Beauty & Personal Care | Basic Care |
| Beauty & Personal Care | BELEI |
| Bedding | Rivet |
| Bedding | STONE & Beam |
| Bedding & Bath | Pinzon |
| Clothing | 28 Palms |
| Clothing | Amazon Essentials |
| Clothing | Daily Ritual |
| Clothing | Goodsport |
| Clothing | Goodthreads |
| Clothing | Inkast Denim |
| Clothing | Kold Feet |
| Clothing (sport clothes) | CORE 10 |
| Cross Category | Amazon Basics |
| Electronics | Amazon Echo & Alexa Devices |
| Electronics | Amazon Fire Tablets |
| Electronics | Amazon Fire TV |
| Girls' clothing | Emma Riley |
| Grocery | 365 everyday value |
| Grocery | Amazon Fresh |
| Grocery | Happy Belly |
| Grocery | Vedaca |
| Grocery | Whole foods market |
| Grocery | Wickedly Prime |
| Health & Household | Amazon Elements |
| Health & Household | Presto! |
| Health & Household | Solimo |
| Health, Beauty and Personal Care | Nature's Wander |
| Home & Kitchen | NOD by Tuft & Needle |
| Home & Kitchen | Pinzon |
| Home & Kitchen | RAVENNA Home |
| Home & Kitchen | Rivet |
| Home & Kitchen | STONE & Beam |
| Jewelry | Amazon Collection |
| Kids clothing | Scout & Ro |
| Kids' clothing | A for Awesome |
| Kids' clothing | Kid Nation |
| Kids' clothing | Spotted Zebra |
| Kindle accessories | NuPro |
| Men's clothing | Arthur Harvey |
| Men's clothing | Buttoned Down |
| Men's clothing | Comfort Denim Outfitters |
| Men's clothing | Franklin Tailored |
| Men's clothing | Good Brief |
| Men's clothing | Hem & Seam |
| Men's clothing | House & Shields |
| Men's clothing | Isle Bay Linens |
| Men's clothing | Meraki |
| Men's clothing | Peak Velocity |
| Men's clothing | Quality Durables Co. |
| Pet supplies | Life Long |
| Pet supplies | Wag |
| Shoes | 206 Collective |
| Shoes | The Fix |
| Sunglasses | Obsidian |
| Supplements and vitamins | Amfit Nutrition |
| Supplements and vitamins | OWN PWR |
| Vitamins and supplements | Revly |
| Women's clothing | 7Goals |
| Women's clothing | Arabella |
| Women's clothing | Aurike |
| Women's clothing | Bdcoco |
| Women's clothing | Cable Stitch |
| Women's clothing | Coastal Blue |
| Women's clothing | Ella Moon |
| Women's clothing | Find. |
| Women's clothing | Haven Outerwear |
| Women's clothing | Iris & Lily |
| Women's clothing | James & Erin |
| Women's clothing | Lark & Ro |
| Women's clothing | Lily Parker |
| Women's clothing | MAE |
| Women's clothing | Mint Lilac |
| Women's clothing | Myx Store |
| Women's clothing | Ocean Blues |
| Women's clothing | Painted Heart |
| Women's clothing | Paris Sunday |
| Women's clothing | Society New York |
| Women's clothing | Symbol |
| Women's clothing | Wild Meadow |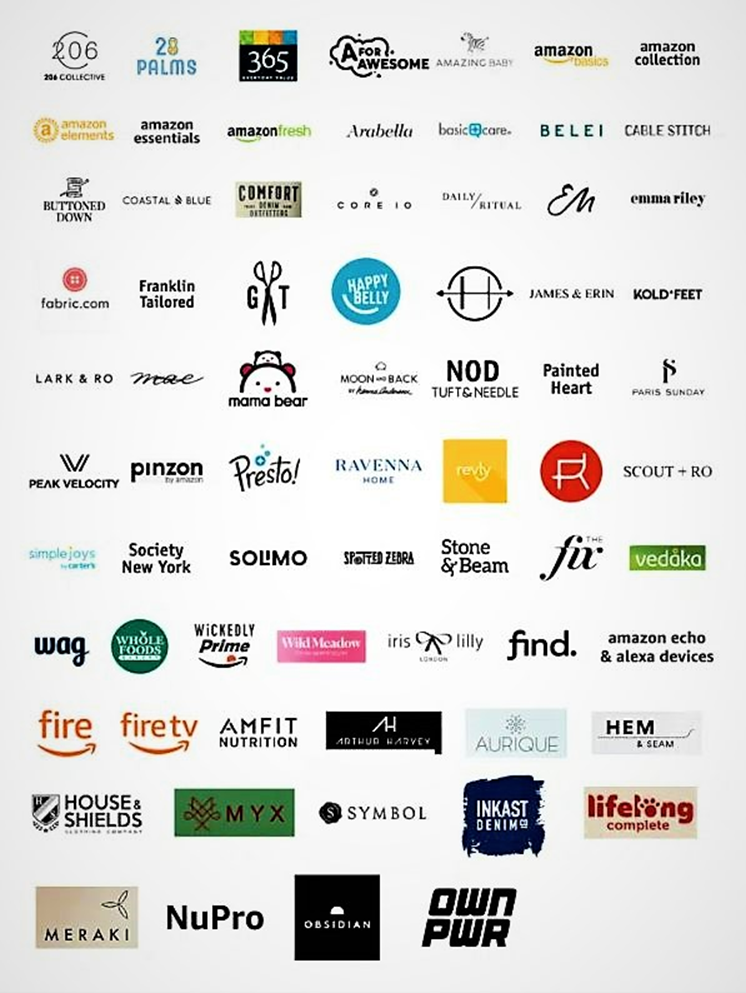 Target Private Label Brands
A New Day: brand is targeted at women's apparel and accessories.
All in Motion: is an brand focusing on activewear and sporting goods.
Art Class: is an apparel and accessories line designed for kids ages 4-12.
Auden: offers a collection of bras and panties for women.
AVA & VIV: is women's apparel that offers extended sizes (X-4X) for women.
Boots & Barkley: is an apparel and accessory line for pets.
Brightroom: is a storage and home organization brand.
Bullseye's Playground: offers incredible items for the whole family, at prices between $1-$5
Casaluna: brand is focused on quality bedding and bath items
Cat & Jack: is an affordable line for kids and baby apparel and accessories brand.
Cloud Island: is a collection of nursery décor, bedding, bath and layette.
Colsie: brand includes intimates, lounge, and sleepwear styles
Embark: brand offers high-quality camping gear such as shelters, sleeping bags, backpacks, camping chairs etc.
Everspring: is a household essential brand ranging from laundry detergent to candles.
Favorite Day: brand features more than 700 high-quality sweet and savory finds at an incredible value — from bakery and trail mixes to premium ice cream.
Future Collective: is a trendy apparel and accessories brand
Good & Gather: is a food brand— from dairy and produce to ready-made pastas, meats and more.
Goodfellow & Co: is a men's apparel and accessories brand.
Hearth & Hand with Magnolia is a home-lifestyle brand.
Heyday: is an electronics brand comprising of affordable and trendy tech accessories.
Hyde & EEK! Boutique : is a brand for Halloween décor, costumes, candy etc.
JoyLab: is a women's fashion performance apparel brand.
Kindfull: is Target's cat and dog food brand.
Knox Rose: is a women's apparel brand
Kona Sol: is a women's swimwear brand
Made By Design: brand is for affordable houseware basics, luggage and travel accessories.
Market Pantry: offers quality budget-friendly food items.
Mondo Llama: is an arts and crafts brand.
More Than Magic: is a beauty brand dedicated to tweens.
Opalhouse: brand assortment features handcrafted touches and globally inspired details for the home.
Open Story: offers premium luggage, backpacks, garment bags, packing cubes etc
Original Use: is an apparel & accessories brand for young men.
Pillowfort: is Target's brand for  Kids (home collection).
Project 62: is mid-century modern home décor brand.
Room Essentials: includes stylish and functional pieces at an incredible value for apartments or dorm room.
Shade & Shore: is a women's swimwear brand offering vacation-ready one pieces and bikini tops and bottoms.
Smartly: is a budget-priced personal care brand (hand soap, plates, razors etc).
Smith & Hawken: brand offer guests stylish and sturdy pieces for sophisticated outdoor living –  From outdoor furniture, gardening and décor solutions etc.
Sonia Kashuk: brand offers cosmetic cases and makeup application tools.
Spritz: is a lively line of party supplies which includes gift bags, disposable plates and festive party decorations.
Stars Above: is a sleepwear brand
Sun Squad: is a seasonal brand designed for Summer.
Threshold: offers guests relaxed, classic home aesthetic products.
Universal Thread: is a women's denim brand
up & up: brand comprises of multi category products in Home Care, personal Care etc.
Wild Fable: is an apparel & accessories brand targeted at young women.
Wondershop: is a brand for guests to get all their holiday needs — like tree-trimming items, festive treats and family pajamas.
Xhilaration: offers women's swimwear and basics, including socks, hosiery and leggings etc.
Walmart Private Label Brands
Sam's Choice: Sam's Choice is Walmart's premium tier for food and hard goods and is named after Walmart founder Sam Walton.
Great Value: Great Value was launched in 1993 and forms the second tier of Walmart's grocery branding strategy.
Equate: brand is used by Walmart for consumable pharmacy and health and beauty items
Mainstays: The Mainstays brand is marketed by Walmart for its lower-priced bedding, kitchen utensils, ready-to-assemble furniture, and home decor products.
Ol' Roy: In 1983, Walmart launched Ol' Roy dog food, named after Sam Walton's dog
Special Kitty: is a brand of cat food and cat care products
Parent's Choice: is Walmart's private label brand – including baby diapers, formula, and accessories.
Play Day: is a brand of low-priced children's toys.
Pen+Gear : It is a brand for school and office supplies.
Better Homes and Gardens is a product line which forms the premium tier to Walmart's Mainstays home brand, producing goods such as furniture, kitchen products, bedding, curtains etc.
Mainstays Kids: Targeted at kids- lines of bedding, kitchen utensils, ready-to-assemble furniture, and home decor.
Your Zone: It is a home product line that tailors toward teenagers and college students.
Adventure Force − toys suitable for outdoor use. Products include water blaster guns.
Allswell: is a luxury bedding and mattress brand owned by Walmart
AutoDrive: car care products, auto detailing products, interior accessories and some low price exterior accessories such as license plate frames
Best Occasions: is a brand comprising of party decorations and accessories, such as candles and hats
Bike Shop: bicycle tires, tubes, and accessories
Clear American: is Walmart's private label for carbonated and flavored water.
Co Squared: is a cosmetics brand owned by Walmart
ColorPlace: Is a brand for paint and painting tools.
Douglas: is a brand for budget friendly tires
Earth Spirit: is a shoes brand
EverStart: It is the brand for automotive and lawn mower batteries, jumper cables etc.
Expert Grill: This brand is for grills, charcoal, and grilling accessories
Fire Side Gourmet: brand comprises of pre-cooked burgers and steaks
Gold's Gym: athletic and exercise equipment such as weights. Named after and licensed from the chain of fitness centers.
Hart – power tools and outdoor power equipment
Holiday Time: Christmas items such as Christmas trees, decorations, and wrapping paper
Home Bake Value: bread
Hyper Tough: hand tools, hardware and storage, and power tools
Kid Connection is used primarily for children's toys but was also used for children's clothing and shoes.
Marketside –comprises of fresh foods in Walmart's deli, produce, and bakery sections.
Mash-Up Coffee (Walmart-exclusive): luxury coffee beans
Motile – laptops, miscellaneous tech, and tech accessories
Oak Leaf: low-cost wines produced and bottled for Walmart.
Onn: is Walmart's private label for consumer electronics, computer accessories, audio/visual accessories, and phone accessories
Our Finest/Notre Excellence : It is a brand for upscale chips, cookies, frozen dinners, etc. which are sold exclusively in Canada.
Overpowered: pre-built gaming desktops and laptops
Ozark Trail: outdoor equipment and footwear.
Price First/Prix Budget
It is a brand of entry-level everyday products, similar to Great Value, but generally at the lowest price point
Protege: luggage and travel accessories
ReliOn: Includes diabetes care products, including blood glucose and blood pressure monitors, medical thermometers, portable humidifiers and replacement filters
Spark Imagine: It comprises of simple children's toys made with high-quality materials; comparable to Melissa and Doug
SuperTech is Walmart's brand of motor oil.
Tasty – kitchen tools
The Office: office supplies and stationery
Uniquely J, a brand under Walmart's Jet.com website
Walmart Family Mobile is Walmart's exclusive prepaid mobile phone
World Table: Brand of premium salsa, pizza, chips, cookies, etc
WAY TO CELEBRATE!: Includes holiday products for occasions such as Halloween, Valentine's Day, and St. Patrick's Day etc
George: men's casual and dress clothing, shoes, and accessories
Terra & Sky: plus size women's clothing
Time and Tru: misses size women's clothing, shoes, and accessories
Wonder Nation: children's clothing, shoes, and accessories
K Alexander: Men's apparel and accessories
Athletic Works: men's, women's, and children's activewear
Brahma: men's and women's work boots
EV1: women's casual clothing, accessories, and shoes endorsed by American television personality Ellen DeGeneres
No Boundaries (NOBO)- junior size women's and young men's clothing, shoes, and accessories
Secret Treasures: women's sleepwear and intimates.
KROGER Private Label Brands
Simple Truth
Private Selection
Home Chef
Murray's Cheese
BLOOM HAUS™
Bakery Fresh Goodness
ABOUND
Luvsome
Pet Pride
Comforts
Dip
Office Works
HD Designs
Everyday Living
Dollar General Private Label Brands
Clover Valley
true living
DG baby
DG Health
DG Office
Comfort Bay
Bobbie Brooks
Smart and Simple
EverPet
Forever Pals
Publix Private Label Brands
Publix Branded products are in three main categories: Fresh, Grocery and Non-Food products.
Publix Brand
Publix Premium
GreenWise
Meijer Private Label Brands
Meijer
True Goodness
Frederik's by Meijer
Fresh from Meijer
Purple Cow
Aldi Private Label Brands
Aldi Brands: Food
Appleton Farms: Ham and Salami
Aunt Maple's: Pancake Mix and Maple Syrup
Bake House Creations: Refrigerated Biscuits and Cookies
Baker's Corner: Baking Supplies
Baker's Treat: Individually Wrapped Snack Cakes and Rolls
Barissimo: Coffee
Beaumont: Coffee
Belmont: Ice Cream and Pies
Benner: Tea
Benton's: Packaged Cookies and Ice Cream Cones
Berryhill: Honey, Jelly and Spreads
Bon Italia: Canned Ravioli and Pasta with Sauce
Breakfast Best: Frozen Breakfast Favorites
Bremer: Frozen Meals
Brookdale: Canned Meat
Burman's: Ketchup, Mayo, BBQ Sauce and Condiments
Carlini: Cooking Oils
Casa Mamita: Mexican Favorites
Cattlemen's Ranch: Beef Patties
Cheese Club: Mac & Cheese
Chef's Cupboard: Broth, Soup and Boxed Sides
Choceur: Chocolate
Clancy's: Chips and Snacks
Cook House: Cooking Sauces
Countryside Creamery: Butter and Cream
Dakota's Pride: Canned Beans
Deutsche Kuche: German Product Line
Earth Grown: Plant-Based Products
Earthly Grains: Boxed and Bagged Grains
Elevation: Protein Bars and Shakes
Fit & Active: For a Healthier You
Fremont Fish Market: Fish and Seafood
Friendly Farms: Milk & Dairy Products
Fusia: Asian Favorites
Goldhen: Eggs
Great Gherkins: Pickles
Happy Farms: Cheese
Happy Harvest: Canned Vegetables
Journey To Thailand: Thai Favorites
Kirkwood: Chicken and Turkey Products
Little Salad Bar: Greens and Premade Salads
liveGfree: Gluten-Free Products
L'oven Fresh: Bread
Lunch Buddies: Fruit Snack and Lunchbox Favorites
Lunch Mate: Lunch Meat
Mama Cozzi's: Pizza and Garlic Bread
Millville: Cereal and Bars
Moser Roth: Chocolate
Nature's Nectar: Fruit Juice
Never Any!: Meat without antibiotics or steroids
Northern Catch: Canned Tuna
Park Street Deli: Hummus, Pickles, Dips and Packaged Deli Sides
Parkview: Hot Dogs and Sausages
Peanut Delight: Peanut Butter
Priano: Premium Italian Favorites
Pueblo Lindo: Hispanic Favorites
PurAqua: Water
Reggano: Pasta and Jarred Sauce
Savoritz: Crackers
Sea Queen: Shrimp and Fish
Season's Choice: Frozen Fruit and Vegetables
Simms: Jerky and Meat Snacks
Simply Nature: Feel Good Ingredients
Southern Grove: Dried Fruit and Nuts
Specialty Selected: Aldi Gone Gourmet
Stonemill: Spices and Seasonings
Sundae Shoppe: Ice Cream and Fruit Bars
Sweet Harvest: Canned Fruit
Tuscan Garden: Salad Dressings and Salad Toppings
Village Bakery: Baked Goods
Winking Owl: Affordable Wine
Boulder: Paper Towels, Paper Plates and Cutlery
Heart to Tail: Pet Food and Accessories
Little Journey: Baby Essentials
Radiance: Dish Soap
Willow: Toilet Paper
Winternacht: Holiday German Sweets
Adventureridge: Camping Gear
Ambiano: Kitchen Appliances
Auto XS: Car Accessories
Bikemate: Bike Gear
Crane: Active Gear
Crofton: Kitchenware
Dentiguard: Oral Care
Easy Home: Home Storage and Accessories
Ferrex: Tools
Gardenline: Outdoor and Garden
Huntington Home: Household Products
L&D: Kid's Fashion
Rangemaster: Grills and Grilling Accessories
Royal Class: Men's Clothing
Serra: Women's Clothing
SOHL Furniture: Home Furnishings
Welby: Wellness Products
Workzone: Tools
Costco Private Label Brands
Costco's private label brand makes anything from tires to vodka to pizza to water at Kirkland Signature.
Kirkland Signature
Trader Joe Private Label Brands
Around 85% of all products sold in Trader Joe's are private label. Their products include gourmet foods, organic foods, vegetarian foods, frozen foods, imported foods, domestic and imported wine and beer (where local law permits), and "alternative" food items, such as vegan and vegetarian options.
Trader Ming's: Chinese food,
Arabian Joe: Middle Eastern foods
Trader José: Mexican foods
Trader Giotto's: Italian food
Trader Joe Sa: Japanese cuisine
Baker Josef's: Flour and bagels
JosephsBrau: Beer
Trader Jacques: French food and soaps
Joe's O's: cereal
Advantages of Private Labels 
The following are few of the most notable advantages of Private labels for retailers-
Adaptability.
Retailers often rely on their suppliers to provide them with the products they sell. Therefore, retailers rely on suppliers to meet market demands and consumer preferences. In order to respond to consumer demands, suppliers must adapt their offerings. It can take a while for the process to complete.
In contrast, Private label products allow retailers to be more agile. When a manufacturer notices that customer behavior has changed, they can quickly adjust their products accordingly.
Control over production.
Private labeling also allows for more control over production. Retailers direct manufacturers on all aspects of private label products. A retailer can define ingredients, components, as well as specific specifications like a product's color and shape.
Control over pricing.
By using private labels, retailers can control the entire supply chain. Products are made in a way that ensures healthy margins, as production costs are set and controlled. Private label products are usually cheaper for the retailer to make and can be sold for a lower price than branded products. Often grocers' stock private label products to help offset lower margins from branded products. Additionally, private label products allow retailers more freedom in marketing their products.
Control over branding.
The challenge with selling branded products is that shoppers look for them exclusively and are loyal to the brand. Rather than developing loyalty to retailers, they develop loyalty to the makers of their favorite products. Over time, private label products and their packaging can help to build a loyal customer base for retailers as well.
Affordability.
Customers save money because they are not paying for mass marketing campaigns or other costs national brands might incur. There are also lower transportation costs for products sourced locally.
Create a winning product mix.
The modern consumer wants a variety of choices. A product mix that consists of low-priced and high-quality products gives customers the option of switching between them. Combined, these brands can gain traction onto shelves and provide customers with a wide range and variety of choices. This results in higher sales for the retailer due to upselling and cross-selling.
Emergence of New channels
In the past, warehouse clubs and other distribution channels were rarely opened to private label brands. Today is a very different story. Mass merchandisers are picking up these brands because they are seeing the potential they have. This has led the creation of new product categories, new general trends, and more overall product diversity for the consumer. As part of this chain reaction, there are now better-quality assurance monitoring efforts in place as well, giving consumers more overall satisfaction than ever before.
Blockbuster Private Label Brands.
A notable example of this is the private label "Kirkland Signature.". Kirkland is Costco's trademark brand, which differentiates it from its competitors and helps to position it with its customers. The Kirkland brand, which is exclusive to Costco, offers national brands like Starbucks, Huggies, etc. for a lower price than traditional grocery stores. During Costco's fiscal year 2021, Kirkland generated sales of $59 billion, a 13.4% increase over 2020. The Kirkland brand dwarfs all but a few CPG giants – Nestlé, Procter & Gamble, PepsiCo and Unilever sold more – and is by far the largest private label brand.
Exclusivity
The private label has been a boon to the retail sector, allowing retailers to increase their margins. Often, retailers have launched exclusive lines in collaboration with high-profile names and celebrities or launched their own line. Some of these private labels have focused on product quality, while others have focused on packaging. Others have tapped renowned designers to create private-label products, such as Walmart's Brandon Maxwell, who serves as creative director for its own owned brands. Meanwhile, Bed Bath & Beyond has introduced a private-label line of products called Our Table.
Disadvantages of Private Labels 
Retailers' lack of control over their private label brand.
This can make it difficult for a retailer should a private label brand not evolve as their customer preferences evolve. If a market changes and the brand is slow to adapt, then everyone loses money because the customer goes elsewhere to have their needs met.
Lacks innovation
Private label brands tend to "piggyback" onto the marketing campaigns that the national branded products have already established. This means that the products being created are simply a different form of what people are already expecting. Instead of making a product improvement, the only point of emphasis tends to be competitive in nature.
What you pay is what you get
If you aren't willing to pay much for a private label brand, then you're not going to get much value. National brands have national sourcing which private label brands don't always have available to them. National brands also tend to move more products, which means they don't need a profit margin that is as high. This makes sustaining a profitable private label brand quite difficult.
Dependency on Economic conditions
Economic conditions tend to influence the strength of private label brands. Market share increases as people make less money. For these brands, recessions are great times to do business. Despite their competitive threat in all economies, being the go-to product when people lose money can be a challenge.
Lower assurance of quality.
There are lots of dependable private label brand products available today. The only problem is that there is not the same assurance of quality in each product as there would be with a national brand. Most consumers will always prefer the security, comfort, and value of a national brand even if they must pay more to receive it. National brands reduce shopping clutter as well, which is something a private label brand can rarely compete with on a long-term basis.
Private labels do not have the same head start.
Strong national brands have spent decades developing their consumer loyalty. People have used these brands over the years, and it becomes part of their daily life. If you look at national surveys of the top brands in any country, the top brands rarely move from their positioning. Private labels must start from scratch, which means their value proposition must be over-the-top to gain any attention. If they cannot meet that value promise, then back to the national brand goes the customer.
More products mean more competition for shelf space and some brands are driven out of stores as a result. Others may have the amount of retail space given to them reduced. In the end, the pros and cons of private label brands show that it is the consumer who always wins. Retailers and brand providers also have a fantastic opportunity, but only if they manage their risks wisely.
Difficulty building brand loyalty.
In theory, branding products is a great idea. In practice, however, it can be a struggle to build significant brand loyalty. Private label brands often compete with established names in a niche. And those established brands hold significant advantages over any comparable private label brands. They will also be available in a broader range of retailers and various channels. Private label products will be available in a particular retailer's shelves alone. Moreover, these National or international brands, have a larger marketing budget to use on promoting their products.
Final Thoughts on Private Labels
Previously associated with low quality and cheap prices, private label products have steadily improved. It is becoming increasingly common for retailers to promote their own private-label products to reduce their reliance on national brands, navigate supply chain shortages as well as improve margins.
In recent years, consumer attitudes toward private label brands have changed because of the Coronavirus pandemic (COVID-19), economic conditions, and improved product quality and variety. Consumers are discovering that private label brands often provide the same quality and value as national brands. For a variety of products, consumers are also switching from name brands to private label products due to recent inflation.